May 4, 2017: My upcoming biography, Barbara La Marr: The Girl Who Was Too Beautiful for Hollywood, to be released in December 2017, is now available for pre-order at 30% off through June 30, 2017!  Use discount code FS30 on the University Press of Kentucky's website.
March 13, 2017:  My Barbara La Marr biography, Barbara La Marr: The Girl Who Was Too Beautiful for Hollywood, scheduled for release in early December, 2017 through the University Press of Kentucky, may now be pre-ordered on Amazon!
Writer and cinema historian Annette Bochenek recently read the book and interviewed me about it.  Creator of the Hometowns to Hollywood website, Annette offers a fascinating look at the oftentimes modest beginnings of Old Hollywood's biggest icons.  Read my interview with Annette and her review of Barbara La Marr: The Girl Who Was Too Beautiful for Hollywood on her blog.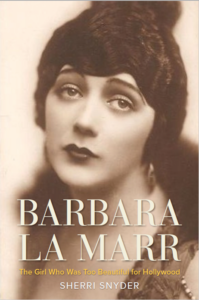 January 29, 2017:  The University Press of Kentucky recently sent me a photo of the cover of my biography, Barbara La Marr: The Girl Who Was Too Beautiful for Hollywood, and I couldn't be happier with it.  UPK is publishing the book this coming fall.  Stay tuned for updates!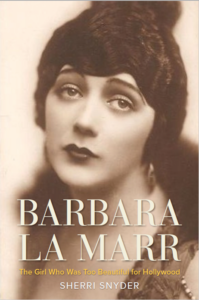 December 19, 2016:   I have now finalized the title of my Barbara La Marr biography with my publisher, the University Press of Kentucky.  Look for Barbara La Marr: The Girl Who Was Too Beautiful for Hollywood to be released sometime in the Fall/Winter of 2017.  UPK's design team is currently working on the cover design and I should have a photo to share early in the new year.  Meanwhile, I have been working away on a preliminary index in order to get a leg up for when things move into the proof stages.  This has been a thrilling (albeit all-consuming) process these past many years, and I dare say that the end is in sight!  Happy Holidays to everyone!
September 23, 2016:  My Barbara La Marr biography will be published by University Press of Kentucky!
The acquisitions editor at University Press of Kentucky informed me this afternoon that their board members "wholeheartedly approved" my completed manuscript, The Girl Who Was Too Beautiful: The Extraordinary Life Story of Silent Screen Vamp, Barbara La Marr, at their quarterly meeting today and are thrilled to publish it.  The book will be published in their Fall 2017 Screen Classics series, perhaps as soon as August.
Since submitting my completed manuscript to University Press of Kentucky as soon as I finished it around January, it has been evaluated by their panel of readers; I sincerely thank the readers for their time and wonderful feedback.  I thank UPK for taking me on; I am honored to be working with them.  Many thanks to Christina Rice, author of Ann Dvorak: Hollywood's Forgotten Rebel (also published by UPK), for suggesting that I submit my manuscript to them in the first place.  Thank you to all who have offered much-appreciated encouragement and expressed interest in this biography and Barbara.  Finally, I thank Barbara's son and only child, the late and greatly missed Donald Gallery, for asking me to write this biography.  It was Donald's dream that his mother's full life story be published; it has been a dream come true for me to fulfill that dream.
I have truly been putting a tremendous amount of work and research, my heart, and my soul into this project these past so many years and am extremely excited to get Barbara's incredible story out there!
I will post periodic updates.  For now, for a teaser and some commentary on the book, here's a link to an earlier blog post here on the site: http://barbaralamarr.net/?p=929 .
July 28, 2016:  On the anniversary of Barbara's birthday (July 28, 1896), I am very happy to report that, after submitting my completed biography,  The Girl Who Was Too Beautiful: The Extraordinary Life Story of Silent Screen Vamp, Barbara La Marr, to an esteemed publisher several months back, they distributed it to an anonymous panel of expert readers (authors, film historians, etc.) and it has received wonderful feedback thus far.
Here's what a couple of non-anonymous readers have to say:
"Sherri Snyder digs deep into the life of Barbara La Marr, giving an in-depth look at the intelligence and talents of the "Girl Who Was Too Beautiful."  We see the real three-dimensional La Marr for the very first time, a thoughtful, generous, and creative woman who died much too young." —-Mary Mallory, film historian and author (Hollywood Celebrates the Holidays: 1920-1970, Hollywoodland: Tales Lost and Found, and Hollywood at Play: Celebrating Celebrity and Simpler Times)
"Snyder's completed manuscript is impressive in both its scope and detail…a fluid and captivating narrative." —Christina Rice, author (Ann Dvorak: Hollywood's Forgotten Rebel)
Meticulously culled and compiled from myriad sources—including never-before-released information from Donald Gallery (Barbara's son) and descendants of people close to Barbara, Barbara's private diary, memoirs of those who knew and romanced her, and an extensive collection of Barbara's poetry—The Girl Who Was Too Beautiful: The Extraordinary Life Story of Silent Screen Vamp, Barbara La Marr presents an intimate look at Barbara's life story, told in its entirety for the first time.  I thank everyone from around the globe who has expressed avid interest in the book and offered kind encouragement throughout the years!  It was Donald Gallery's lifelong dream that his mother's complete, long overdue biography be written;  I sincerely thank him for entrusting me with that dream.  I am honored and excited to present this book to the world and will post publication details as soon as I have them.  Meanwhile, I offer an overview of the book below.
*  *  *
In 1914 at age seventeen, strong-willed, already infamous Reatha Watson was declared by juvenile authorities to be "too beautiful for the city" and banished from Los Angeles.  She soon returned, only to become further mired in scandal and subsequently barred by the film studios from working as an actress.
Unwilling to stifle her burning ambition and manifold talents, she pressed forward, reborn as Barbara La Marr.  An innately gifted dancer, she achieved renown in the foremost cabarets throughout the country and on Broadway at the height of the pre-WWI dance craze.  Then she toured the vaudeville circuits, acting in headlining comedy skits to general acclaim.  Still under the guise of her assumed name, she next became a storywriter for the Fox Film Corporation in the same town that cast her out, earning the modern equivalent of a six-figure salary. Her exotic beauty, curvaceous form, and potent presence, epitomizing an ascending breed of 1920s screen idol—a shameless, volatile woman who ensnared men with her femininity—, enticed film producers.  She temporarily averted association with her increasingly turbulent past long enough to reign as a preeminent sex goddess of the silent screen.
Through it all, her tumultuous private life striped the pages of newspapers and film magazines.  After her death at age twenty-nine caused a furor in downtown Los Angeles in 1926, her publicist confessed, "There was no reason to lie about Barbara La Marr…Everything she said, everything she did was colored with news-value.  A personality dangerous, vivid, attractive; a desire to live life at its maddest and fullest; a mixture of sentiment and hardness, a creature of weakness and strength—that was Barbara La Marr."
Her extraordinary life story is one of tempestuous passions and unbending perseverance in the face of inconceivable odds.  It is of a woman's fierce determination to forge her own destiny amid the constant threat of losing it all to scandal and, ultimately, death.
January 2016: I am happy to report that my completed Barbara La Marr biography, The Girl Who Was Too Beautiful: The Extraordinary Life Story of Silent Screen Vamp, Barbara La Marr, written at the request of Barbara's son, Donald Gallery, is in the hands of an interested publisher and, per their request, I am editing it down to comply with their length specifications. More details to follow over the coming months!
December 2015: I am thrilled to announce that my Barbara La Marr biography, The Girl Who Was Too Beautiful: The Extraordinary Life Story of Silent Screen Vamp, Barbara La Marr, is officially finished!  I have truly enjoyed every moment of this amazing, five-year journey and, while its conclusion is bittersweet, I am extremely excited to put Barbara's entire life story—complete with many new revelations—out into the world for the first time ever.
I greatly appreciate the various groups (the Egyptian Theatre in Hollywood, the Los Angeles Art Deco Society, and the Woman's Club of Hollywood) who have already voiced interest in hosting book signings along with lectures, a screening of one of Barbara's films, and a performance of my one-woman show that I wrote about Barbara's life.
I am likewise incredibly grateful for all of the messages I continue to receive from people around the world who are anxiously awaiting the book's publication.  (I have even had a generous offer to translate the book to French.)  It is wonderful that there are others who are equally passionate about Barbara, her unbelievable life, and her manifold accomplishments.  Were Donald Gallery, her son and my friend, still around, it would bring him great happiness to know this.
When I completed the first draft of the book, Donald's wife, Patricia, was the first person I called. "Don would be so thrilled to hear this," she told me. "He would be crying right now.  You made his dream come true."  Working on Barbara's life story as both an actress and biographer has been, for me, nothing short of a dream come true.
I am currently in the process of working out the publication details; more updates will follow soon!
In the meantime, pull up a chair or a velvet cushion and get better acquainted with the ever-lovely and talented Miss La Marr here on my blog: http://barbaralamarr.net/?page_id=30.
Fall 2015: Today, October 2, 2015, is a momentous day in my life.  It is the day that I completed a draft of my Barbara La Marr biography, The Girl Who Was Too Beautiful: The Extraordinary Life Story of Silent Screen Vamp, Barbara La Marr.  Over the coming weeks, I will be reading it from start to finish several times, fine tuning it slightly.  I will most definitely be posting updates as events progress, particularly as the book is nearing publication.  I would like to express my sincere gratitude to everyone who has contacted me expressing interest in Barbara and this book.  Please stay tuned!
Meanwhile…
On Saturday, October 10, I'll be donning my seamed stockings and painting on my bee-stung lips to portray Barbara in a one-woman performance piece that I wrote about her compelling life. The performance, taking place at Hollywood Forever, is the finale to the Los Angeles Art Deco Society's annual celebration of some of early Hollywood's most outstanding figures interred on the grounds. This event is a 2 1/2 hour living history tour narrated by a fantastic group of performers and historians. Come hear Barbara's fascinating tale as well as learn about the intriguing lives and works of others who made Hollywood and history, including director Cecil B. De Mille, action hero Douglas Fairbanks, silent screen god Rudolph Valentino, and many more. For show times and ticket information, please visit: http://adsla.org/info/content/oct-10-hollywood-forever-cemetary-tour
Here is what Donald Gallery (aka Marvin Carville La Marr), Barbara's son, had to say about this performance :  " In regards to the Barbara La Marr show as performed by Sherri Snyder, I have had the privilege of seeing it on several different occasions. I was amazed and thrilled to see this very beautiful and talented young woman step back in time to recapture the tempestuous life of my mother during the silent days of Hollywood."
Summer 2015:  I am very pleased to report that I am currently in the middle of writing the second to last chapter of my biography, The Girl Who Was Too Beautiful: The Extraordinary Life Story of Silent Screen Vamp, Barbara La Marr.  The epilogue will follow and then I will begin the process of reviewing the manuscript as a whole.  It is hard to believe that there are sections of this book that I have not read for a few years now, as it seems it was not so long ago that I began this incredible journey into Barbara's unbelievable life.  My goal from the start has been to get to know her—and those who significantly impacted her life—on the deepest possible level.  A purely intellectual understanding based solely upon what seeming facts appear to indicate was not enough for me.  Rather, I have also sought to acquaint myself with the societal forces influencing the ways of thinking and behaviors of the times, to turn these people inside out and understand them.  While there is still a bit of work to be done, this biography is nearing its finish!
I am honored that various organizations have already expressed interest in having me participate in book signings and present lectures once the book is published.  This past week, the Woman's Club of Hollywood contacted me regarding a book signing and presentation of my one-woman performance piece that I wrote about Barbara's life (read more about the performance piece here: http://barbaralamarr.net/?page_id=24).  (The WCOH, founded by women in 1905, is a club for both sexes; specifically, it is both a philanthropic organization and cultural center for the arts.  Past club members include, in addition to Mary Pickford, Douglas Fairbanks, and Charlie Chaplin, many other stars of Hollywood's Golden Age.  Current members are particularly passionate about keeping the spirit of Old Hollywood alive through their events and community outreach programs.)  I will definitely post announcements here on the site when the book is published and as these signings and appearances are scheduled.
Meanwhile, feel free to enjoy my latest blog entry about Barbara (as well as previous blog entries here): http://barbaralamarr.net/?page_id=30.
Spring 2015: I enter the final chapters of my Barbara La Marr biography, The Girl Who Was Too Beautiful: The Extraordinary Life Story of Silent Screen Vamp, Barbara La Marr, with a blend of emotions.  Mainly, I am immensely grateful for the opportunity to write Barbara's story, for this chance to take the journey of her amazing life myself (as both an actress and writer).  I am excited to put her complete story out where others may also know of the incredible, gifted, multi-faceted woman she was.  And, yes, I even feel a tinge of sadness over the impending conclusion of this leg of the venture, as I have truly enjoyed exploring all aspects of who Barbara was as a human being and artist, and weaving those elements together on the written page.
After Donald Gallery, her son, asked me to write her story, it was my deliberate intent to remain free of any time restrictions.  We both agreed that I should take as much time as needed to fully travel every avenue and pursue all conceivable leads.  It has also been quite valuable for me to contemplate all I have amassed, turning it inside out, penetrating the underlying core of it all.   Since new records and historical documents are constantly being added to manifold databases, the gift of time has furthermore provided the thrill of near-constant discoveries, as well as enabled their incorporation into earlier sections of the book.
I am now deep into Chapter Thirty-Six.  It is summer's end, 1925.  Barbara, twenty-nine years old, has lost nearly everything.  Shackled by debt, her love life in tatters, and her health failing, she has fallen from her position as one of the silent screen's leading vamps.  Following a complete nervous and physical breakdown and subsequent hiatus from the screen, she has returned to the studio to begin what will be her final film.  Her doctor has warned her against working in her condition.  Her family and friends have begged her to rest and reclaim her health.  Her producers and director have offered to postpone production.  Barbara refuses to listen.  Having recently assumed the reins of her career, she has won the chance to abandon the one-dimensional sex siren roles she had been made to play.  She has been granted the opportunity to defy her typecasting and make the kind of picture she has long wanted to make.  Sensing that her time could be running out, she is desperate to prove herself as the actress she knows herself to be.  And so she hobbles onto First National's United Studios lot, flanked by her concerned father and a nurse, steadying herself with a walking stick, and determined to rise again…
Winter 2015: My Barbara La Marr biography, The Girl Who Was Too Beautiful: The Extraordinary Life Story of Silent Screen Vamp, Barbara La Marr, is still moving right along.  I have finished incorporating all of the additional research information I had accumulated into earlier chapters and resumed where I left off.
I am currently in the midst of Chapter Thirty-Four.  It is the fall of 1924.  Barbara has recently completed the filming of Sandra, her first film as a full-fledged star with Associated Pictures and First National.  Her fans, producers, and distributor await the film's release with great anticipation.  Behind the scenes, Barbara is feeling the intense pressures of stardom.  Rail-thin flappers are emerging as the screen's newest idols and, at her producers' insistence, she must quickly shed her voluptuous form.  She resorts to drastic measures to do so, all the while questioning whether or not she will validate everyone's faith in her star potential…  
Fall 2014: Sadly, Barbara's son and my cherished friend, Donald Gallery, passed away on October 11, 2014 at the age of ninety-three.  He is truly a great man and I am forever thankful for our friendship.  I am honored that he entrusted me with writing Barbara's biography.  While it is a shame that he will not see its completion, I am grateful that he was able to enjoy many of the chapters.  He took particular joy in the chapters involving his precious little time with his beloved mother—the chapters he had most looked forward to reading.  I am glad they brought him the sense of peace that he said they did and the certainty of Barbara's unconditional love for him.
I am happy that he was able to see me portray Barbara on several occasions, including the one-woman show that I wrote about her life.  Don's wife, Patricia, paid me a kind compliment on the show when she related a comment Don had made not long ago; "Don said he really feels the essence of his mother in your words, movements, and smile."  (Coincidentally, I was giving my annual performance of that show at Hollywood Forever when Don passed.)
Throughout my seven-year friendship with Don, I kept a pen and writing tablet handy whenever speaking with him.  I never knew when he would light upon a story or long-forgotten memory from his childhood.  My many interviews and conversations with him resulted in over one-hundred pages of notes, all of which afford wonderful insights into both Barbara's life and his own.  For this, I also thank him.
I have posted a tribute to Don ("Tribute to a Gentleman") here on the blog: http://barbaralamarr.net/?p=671 .  Prior to that, I posted an announcement of his passing: http://barbaralamarr.net/?p=664.
*
On a lighter note, I am pleased to report that the eight-inch plus stack of additions to be included in earlier chapters of Barbara's biography is steadily dwindling.  It is indeed incredible how, nearly every time I have paused from the writing end of things to explore an additional research lead, I uncover many more potential leads.  My theory is that it's better to see everything and come up empty-handed than to wonder what might have been missed by not checking.
From time to time, Barbara's father's newspaper articles have proven valuable portals into her early family life.  I am currently due to receive a few reels of long-awaited microfilm containing surviving issues of one of his newspapers from the late 1800s/early 1900s.  (I submitted the order back in July; acquiring such items can be a lengthy process.)  Aside from this, only one more batch remains before I am officially done with the dozens of microfilm orders I placed.  (A huge thank you to Julia Butler at Heritage Library for working her magic and fulfilling these orders for me, despite the obstacles we have encountered in obtaining some of them!)  After that, and upon completion of the final round of additions to be made to earlier chapters, I am back to writing the last major section of the biography.
Summer 2014:  All continues to proceed very well with my biography on Barbara.  I am still in the process of going back and adding to earlier chapters as I have been accumulating even more material. One of my latest projects has been to comb through several years' worth of non-digitized daily newspapers on microfilm. Given that Barbara performed onstage as a child actress in numerous cities, and that her father wrote for multiple newspapers in many more, it has been quite an undertaking—but all very worth it whenever I strike gold.
I have also been approached regarding participating in special events once the book has been published. Representatives from the American Cinematheque/Grauman's Egyptian Theatre on Hollywood Boulevard, as well as the Art Deco Society of Los Angeles, have expressed interest in having me present lectures on Barbara. It is tentatively planned that the lectures will involve the screening of one of Barbara's films. I will definitely post updates as plans are solidified in the future.
For those who can't wait to learn more about Barbara, I will be presenting a one-woman performance piece that I wrote about her life on October 11, 2014. The performance, which will take place at Barbara's crypt in Hollywood Forever's Cathedral Mausoleum, is the finale to the Art Deco Society's annual celebration of some of early Hollywood's most fascinating—and scandalous—figures. Ticket information will soon be available at:  http://adsla.org/info/events-view/ .
Some snaps of me portraying Barbara: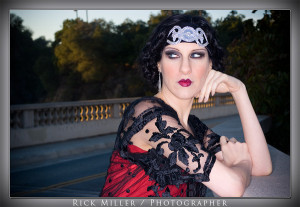 Spring 2014: Barbara's biography is still coming along great.  That there are so many additional avenues to explore regarding those whose lives were intimately connected with hers never ceases to amaze me.  So often, I find that my explorations of these avenues lead to discoveries that offer even greater insight into not only the particular phase of Barbara's life upon which I am currently working, but earlier phases as well.  As more records are also constantly becoming available, I find myself going back to chapters I have already written and layering in all that I am uncovering.  It is a constant process, but I continue to enjoy it immensely…
Winter 2013: I am honored to announce that the foreword of the book will be penned by Donald Gallery, Barbara's son.  Don's wife, Patricia, recently paid me one of the kindest compliments I have ever received.  "Don said the other day that he felt you have brought Barbara back to life for him," she wrote in one of their e-mails to me.  "Also a peace inside him that he has never had before about his mother and how she felt about him.  Thank you for giving this to him."
It is I who am thankful.  I am grateful to Don for asking me to write a story I am honored to share.  I believe it is not enough for me to simply tell readers about Barbara's life and times.  I want them to live it.
With this in mind, I now begin Chapter 30.  It is mid-August 1923.  Barbara has completed filming the exterior scenes for The Eternal City, the biggest film she has yet done.  She and the film's cast and crew have just left Rome and sailed back to the United States; Arthur Miller, the film's cameraman—having evaded Mussolini and his black-shirted men—has managed to smuggle two-thousand feet of developed film safely along with them.  Awaiting Barbara when she landed in New York was her manager and a five-year contract with Associated Pictures for starring films to be released through First National.  And so begins one of the most turbulent periods of her life…
FALL 2013: Over 72, 500 words thus far and the saga continues to unfold!  The full extent of all Barbara managed to squeeze into her twenty-nine years astounds me more each week.  Since I am focusing mainly on the book at this time, blog entries will be periodic.  There is much I am excited to share and I will post many more entries and photographs as soon as the book is completed.
SPRING 2013: At the request of Barbara's son, Donald Gallery, I am currently writing her biography.  After nearly six years of extensive research, twenty-two chapters have been completed and I am working away on Chapter Twenty-Three.  A major publisher has read sample chapters and is awaiting a completed draft.  (I am not revealing the publisher just yet except to say that I am honored and thrilled they are considering it!)  For someone who died so young, Barbara led an incredibly full, extraordinary life and I estimate the book to be about two-thirds finished.  I will post periodic updates as they unfold, including when the book will be available.
Thank you for your interest and stay tuned!