Known as "the girl who is too beautiful" since 1914—when law enforcement declared her, then seventeen, "too beautiful" to be on the loose in Los Angeles and subsequently banished her from the city—silent screen legend Barbara La Marr has been the muse of many an artist.  Indeed, in her time, her exquisite beauty and smoldering allure captured the imagination of painters, photographers, poets, and filmmakers—and continues to inspire today.
Modern-day artist Gregg Nystrom discovered Barbara in his teens, while indulging his passion for fashion, film, drawing, and the renowned beauty icons of 1920s-1950s Hollywood.  Barbara's "stunning," exotic looks—specifically her dark hair and green eyes*—"really spoke to me as an artist," recalled Nystrom.  Later, as a published paper doll artist who honors the timeless glamour of twentieth century film stars and models through his work, Nystrom recreated Barbara's beauty and essence in paper doll form many times (his favorite renderings are pictured below; in the center photo, Barbara is depicted in her costume from The Prisoner of Zenda [1922]).  "Barbara has long been my favorite silent star!" Nystrom admits.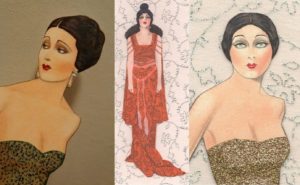 Considered works of art, Nystrom's paper dolls feature hand-painted, textured garments immortalized by the wearer: designer gowns and movie costumes, often adorned with glitter, sequins, and, on occasion, feathers.  Nystrom anticipates that his latest Barbara La Marr doll (pictured above on the right) will one day be available to Barbara's fans and "will have her gorgeous film wardrobe."
Whether in her surviving films, in photos, or as one of Nystrom's paper dolls, Barbara certainly lives up to her epithet.  "To me," Nystrom says, "Barbara La Marr truly is 'the girl who is too beautiful.'"
*Amazingly, Barbara's eyes were said to change color, at times appearing green, blue-gray, deep blue, and hazel.
*        *        *
View more of Gregg Nystrom's dazzling work on his Facebook page and Amazon.