Join me on Saturday, December 2, from noon to 4 p.m., for the Hollywood Heritage Museum's 6th Annual "Afternoon With the Authors."  I will be signing copies of my newly-released biography, Barbara La Marr: The Girl Who Was Too Beautiful for Hollywood (published by the University Press of Kentucky and sold by the museum), after briefly lecturing about Barbara's tempestuous life and her contribution to cinematic history as one of the silent screen's most laudable—and infamous—sex sirens.
The event will feature fourteen authors of books pertaining to Hollywood's Golden Age (including Darrell Rooney [Harlow in Hollywood: The Blonde Bombshell in the Glamour Capital, 1928-1937], Charles Epting [Bebe Daniels: Hollywood's Good Little Bad Girl], and Mary Mallory [Hollywood Celebrates the Holidays: 1920-1970, Hollywoodland: Tales Lost and Found, and Hollywood at Play: Celebrating Celebrity and Simpler Times]), all of whom will present lectures and sign books.  (See photo below for a complete listing of attending authors.)  A percentage of book sales will go toward upkeep of the museum.
The museum is located at 2100 North Highland Avenue in Hollywood, in the fully-restored Lasky-DeMille barn, one of Hollywood's first film studios.  Parking and admission to the event are FREE.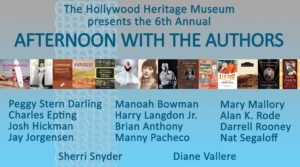 ***Those unable to make the event may purchase Barbara La Marr: The Girl Who Was Too Beautiful for Hollywood from the University Press of Kentucky, Amazon, and Barnes & Noble.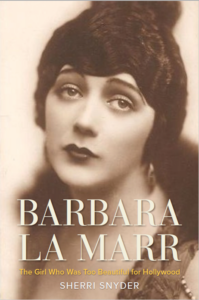 Book Reviews:
"The 'Girl Who Was Too Beautiful' moniker is both a blessing and a curse for Barbara La Marr's legacy.  It ensures her place in the pantheon of Hollywood's most intriguing figures, but at the same time discourages modern audiences from viewing her as anything more than Roaring Twenties eye candy.  Therefore, the task that Sherri Snyder has undertaken is invaluable; Snyder manages to humanize an actress who is all too often defined merely by her physical appearance and freewheeling lifestyle.  Expertly researched and captivatingly written, Barbara La Marr: The Girl Who Was Too Beautiful for Hollywood manages to paint the most complete picture of La Marr's life to date.  A scholarly work on Barbara La Marr was long overdue; the silent film community as a whole should be thankful that Snyder was not only up to the task, but has created a work that will serve to define La Marr's life and career for decades to come." ―Charles Epting, editor, Silent Film Quarterly  
"Snyder's work is fresh and enthralling.  Her dedication and compassion for her subject shines through.  And we are richly rewarded with a truly well-written biography of a long-forgotten star." ― Stephen Michael Shearer, author of Patricia Neal: An Unquiet Life, Beautiful: The Life of Hedy Lamarr, and Gloria Swanson: The Ultimate Star
"Sherri Snyder peels away the gossip to reveal the truth of the life of Barbara La Marr.  Snyder illuminates La Marr's artistic struggles and personal demons with depth and sensitivity.  Scandal seekers take note!  The truth is far more compelling than any fictional account on record." —Karie Bible, co-author of Hollywood Celebrates the Holidays: 1920-1970, film historian, and Hollywood Forever tour guide
"Sherri Snyder digs deep into the life of Barbara La Marr, giving an in-depth look at the intelligence and talents of the 'Girl Who Was Too Beautiful.'  We see the real three-dimensional La Marr for the very first time, a thoughtful, generous, and creative woman who died much too young."  —-Mary Mallory, film historian and author (Hollywood Celebrates the Holidays: 1920-1970, Hollywoodland: Tales Lost and Found,  and Hollywood at Play: Celebrating Celebrity and Simpler Times)
"Snyder beautifully steps up to the task of providing film scholars a thoughtful and well-researched depiction of La Marr's life, career, and legacy.  Snyder's work offers an honest and incredibly personal perspective of La Marr's life.  Snyder's prose justly portrays both the rewarding and challenging moments throughout La Marr's life and career." —- Annette Bochenek, Hometowns to Hollywood
"Snyder's completed manuscript is impressive in both its scope and detail . . . . A fluid and captivating narrative."  —- Christina Rice, author of Ann Dvorak: Hollywood's Forgotten Rebel